Halloween is coming!
With the extremely fast and precise shipping from China, as we know it, and to avoid disappointment and unnecessary stress, you should probably order your Halloween costumes in the next few days to make sure they arrive on time.
If you are looking for original Halloween costumes, you came to the right place.
---
Original Halloween Costumes
---
When picking a costume, you have 4 options (besides not wearing one):
1. Pre-made, ready-to-go costumes
Get on AliExpress: http://ali.ski/U8o2K
The easiest and hassle-free option that the most are probably going to choose it to get a pre-made costume.
When selecting a costume, remember, that you always get what you pay for. And even though the AliExpress costumes are priced lower than in most stores; there still are good and bad quality ones.
For example, look at these Deadpool costumes:
OR
Another costume that I think is always relevant, and deserves special attention is this beautiful banana costume, that is more of a lifestyle than anything else.
AliExpress has costumes for any flavor and taste. Just have a look: http://ali.ski/WoObu
You can also go with an inflatable costume, if that floats your boat:
Inflatable costume store: https://ali.ski/u6TzZ
2. Onesies
Get Best-selling adult onesies on AliExpress: https://ali.ski/u6TzZ
AliExpress onesies range from $10 to $45, with most being around $25.
Unlike costumes, onesies are good not only for Halloween, but also for music festivals, for doubling as pajamas, and for making Harlem Shake remakes (anybody still making those? #slowpoke #irrelevantmemes).
Stores that sell onesies and kigurumis:
Store 1: http://ali.ski/k8R0bj
Store 2: http://ali.ski/G8bLl5
3. Inflatable costumes
Inflatable costumes store: http://ali.ski/j6i8L
Inflatable (each comes with an air pump that works off batteries) costumes from http://ali.ski/j6i8L AliExpress store range from $29 to $44, with most being ~$39. Some are NSFW.
4. Make your own.
If you want to get a little creative (and save some money), you can assemble your own costume. It will be more original, and likely cheaper than just buying one.
For example, let's look at making a V' from V For Vendetta movie costume:
Result: $18.79 instead of $34.37 pre-assembled. You can spend the difference on buying more accessories or gloves, neither of which are included with the pre-made one.
---
The classic horse head mask – $12.99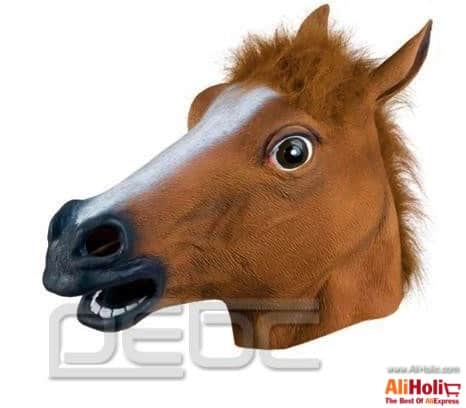 Masquerade mask – $0.26
Fox-shaped masquerade mask – $$0.60
And a bonus WTF costume as a reminder of how weird AliExpress can get at times (no longer available 😭)