AliExpress is a relatively well-known global marketplace based in China that offers products to international buyers. Just like almost any other big online retail business, AliExpress has an affiliate program to attract buyers to boost sales on the platform.
This review will cover everything you need to know about the AliExpress affiliate program. You will also learn how this affiliate program stands in comparison to Amazon Associates.
AliExpress Affiliate Program: Is it worth it?
An affiliate program from AliExpress has been around for almost a decade. Just as any other affiliate program, it has its pro's and con's.
Some quick stats:
Average 3.5% site-wide conversion rate and $140 USD median order
600 Million average monthly visitors
Monthly performance incentives and rewards for attracting new buyers
The main benefit of shopping on AliExpress vs. Amazon for example, is low prices and free (or cheap) shipping to most countries. Since you are buying directly from the suppliers, you can find real bargains on AliExpress. Most products are resold with low profit margins, and sellers make money with the low overheads and high volume of sales. Most things worldwide are already made in China, so the buyers can get them without going through a local – or a more local- importer.
Even though that is what most people buy, AliExpress is not just for cheap products. You can also find higher-end merchandise like electronics, furniture, clothing and household items, and sporting equipment. The key difference is that comparable quality alternatives will often still cost 2-3 times in retail stores.
Biggest roadblock though for many people is the shipping time, with standard freight times between 4 to 6, and in some cases 8 weeks. However, whenever E-Packet shipping is available, it can reduce transit time to about 3 weeks. Some higher-end products come with free DHL/FedEx shipping – this is rare. Most of the time shipping with a courier is available for an extra fee, but usually it is too expensive.
AliExpress Affiliate Program: Commission
There are three main ways to work with AliExpress: their native program, and a third party company, of which there are several options: EPN, Admitad and CJ Affiliates.
I have been using AliExpress official program for several years before switching to Admitad (despite the lower commission rate) and here is why:
Native Affiliate Program Con's:
No dedicated support. I've had issues with late payouts and issues with the commission structure, and emailed AliExpress Affiliate support team multiple times, but received no reply.
No payout on Hot Products – these are the best-selling items. People buy a lot of them so they add up, but the official rate on them is 0%. Admitad offers up to 69% on them, and EPN offers up to 70%.
Commission cap of $50 per product. If someone places a large order for an expensive item (rarely happens, but it does), you can miss out on big payouts. Admitad and EPN pay the full amount.
Sales records are only kept for 6 months. If you don't download them, they are lost forever.
Limited payment options. Native program can only pay via bank transfers (they take $15 to complete the transfer, in addition to the fee that your bank may collect). Admitad also has options for PayPal, Payoneer, ePayments, WebMoney and bank card deposits.
The reason I chose Admitad over EPN: their Chrome extension. It lets me build links almost instantly, and they have a ton of other affiliate programs in Admitad Lite: Canva, LinkedIn, Amazon, eBay, etc. Super easy to use, and you can add individual trackers to the links as you create them, so that you can see which link the buyer clicked and what product they bought. This helps a lot with optimizing articles, and with understanding your audience. You can also build links through a Telegram bot.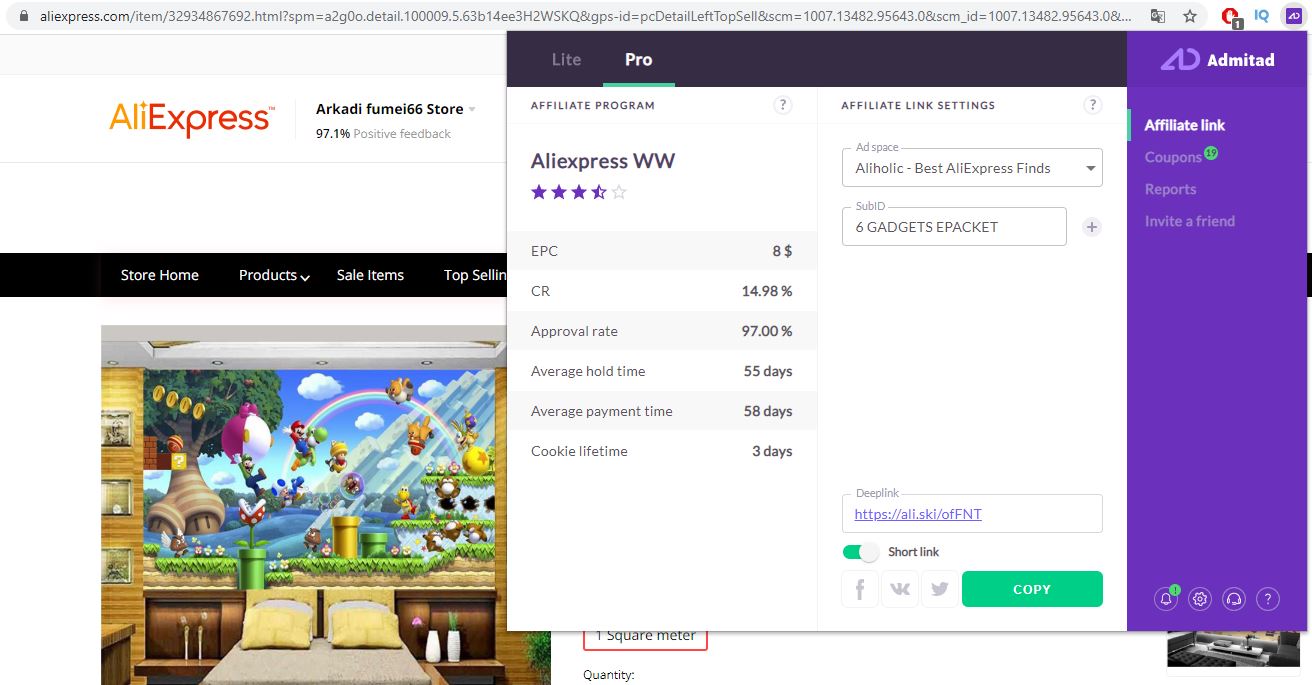 I have a EPN account as well, that I use whenever Admitad extension is not working (1% of cases) and for their cashback service.
How much money can you make with AliExpress Affiliate Program?

When I started, AliExpress cookie lifetime was 30 days – so as long as someone clicked your affiliate link and made a purchase within 30 days after that on AliExpress, you would get paid. Then they reduced that to 1 day, and then to session-based, which means if the buyer clicked the link, closed the browser, and then opened the website again, you would not get any commission. That created outrage in the affiliate community, and they decided to increase it to 3 days.
I have stepped over $100/month mark approximately 3-4 months in, then it slowed down due to commission structure changes. I kept on creating content, and pages started ranking in Google.
Then as I created more videos and blog posts it slowly went to $1,000 – 2,000 per month, and in peak months (November, March) it sometimes reaches $4,000 – 5,000/month.
After the user makes a purchase, it can take up to 60 days for the commission to process. If the user starts a dispute and AliExpress returns them the money, you do not get paid (that's why there is a Declined commission tab). On average, I'd say I get my payments 45 days later.
How to join AliExpress Affiliate Program?
If you want to join through Admitad (recommended), you can do it here.
If you want to join the native (official) program, visit portals.aliexpress.com. We explained the con's of that program further up. You can login using your buyer AliExpress account, and the application takes a couple minutes to complete.
NOTE: if you use VPN, you might need to turn it off. The affiliate browser extension will still work with it.
How to start making money by promoting your AliExpress Affiliate links?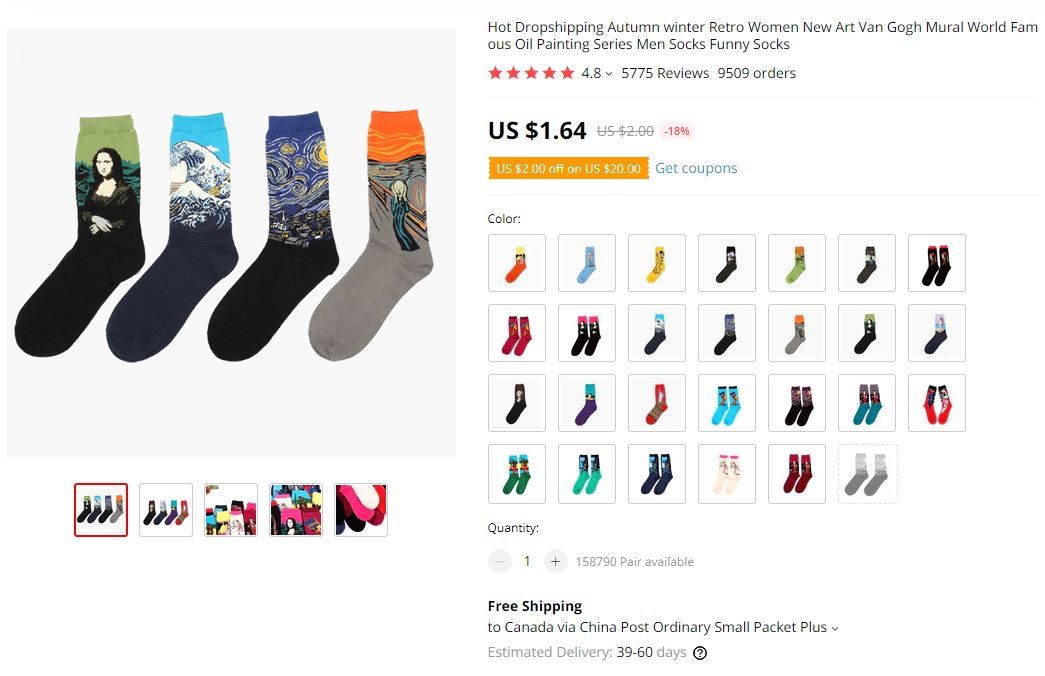 You can promote your links in a variety of ways – through your own blog, YouTube channel and other forms of social media.
Spamming them is never a good option. It might get you money at first, but it is not sustainable, and your account might get banned. Good things take time, and white-hat SEO is the right way to do it.
You can start an AliExpress shopping group in your language, a YouTube channel is a good way to start as it does not require any upfront costs, but the disadvantage of those is that they can at any time get shut down. When you don't own the platform, you have limited control. I have the YouTube channel, and Facebook/Instagram accounts. They are great for keeping in touch with the audience, for showcasing the brand and for giving additional SEO power to the website, I have very little control over how the content is being distributed. The views on the channel vary from 20,000 to 200,000 views per month, and some videos that I spent 8-10 hours on per video are not getting any views a month later. I still do it because it is fun, and because I love the community I created.
The best way (in my opinion) is to start a website/blog. It makes you a business owner, once the business starts generating revenue it can be sold at through platforms like Flippa or EmpireFlippers, or you can keep it as a source of passive revenue.
To start a blog, you need a domain name and hosting. For domain names, there are too many options to choose from. I have used GoDaddy in the past, but switched to Ionos (previously 1and1) as their promo and regular rates are cheaper.
For hosting, I recommend BlueHost. They have competitive rates on hosting packages, and as you are starting out and not expecting a lot of traffic, a simple cheapest shared package would do. Unless you get 10,000+ visitors monthly, there is no point to pay more.
When you hit 10,000+ visitors monthly, which realistically won't happen in the first year, I would recommend moving to a cloud-based VPS from either Bluehost, or anyone else. I have used Dreamhost (Dreampress), A2 and now I am with KnownHost. It is more expensive than Bluehost (~$40 per month instead of $4), but it is worth it with respect to pagespeed. Most providers offer free migration services, so you don't need to worry about making the move from one provider to another on your own.
The most popular way of starting a blog is WordPress – roughly 62% of all CMS (more than the closest 3 competitors combined). It has a ton of plugins and is easy to setup and use. There are tutorials that have an answer to any question imaginable.
What other ways to make money online are there?
If affiliate marketing seems too complicated or time-consuming, there are other ways to make money online.
One of the simpler ones are taking online surveys. You register in a portal depending on your country, set up your profile (age, gender, education), and start taking surveys. They typically pay between a few cents to a few dollars, depending on what type of information is needed from the group that a part of which you are classified as.
Don't expect to make hundreds per day, but it could be a good way to earn extra spending cash. Survey payouts depend a lot on the country you are in, and on the surveys available on the platform. It's best to register on as many as they are available in your country to maximize the potential pool.
Some of survey websites:
TimeBucks Rewards (most countries worldwide) – $1 signup bonus, ID verification required
Hintsters (USA) – once you register, make sure to click the link in the confirmation email
eSurveyBox (USA, Canada, Australia, France, Germany, India, Italy, Mexico, Netherlands, UK) 
YourSurveys (Netherlands)
Toluna (Netherlands)
Pinecone (France) – once you register, make sure to click the link in the confirmation email
LifePoints (France) – 10 points signup bonus