On the front page of AliExpress there is a link for daily deals. The deals seem really good, and the discounts seem too good to pass on. This is how I got hooked up on AliExpress, this is how I made my second purchase – a hair trimmer, which was "discounted" from $75 to $25.
I was happily using it for a number of months when I came across the listing, where this same trimmer was sold for half the "discounted" price. Then I checked the daily deals page, and used my ninja search skills to compare the prices that are listed on the sale page, and the normal, everyday price of the items. I was unpleasantly surprised.
For example, let's look at this daily deal:
$33.12 after the $368.00 – a 91% discount, seems pretty good right?
That is until you see the same watch at a regular, everyday price of $27.99.
Most AliExpress sale items are like that, except for the main daily deal that is on the counter. I found that usually the deals that have a limited number of items on sale are legitimate, and often feature new items that AliExpress choses to promote.
For example, today's (October 20) deal on Bluedio Air headphones.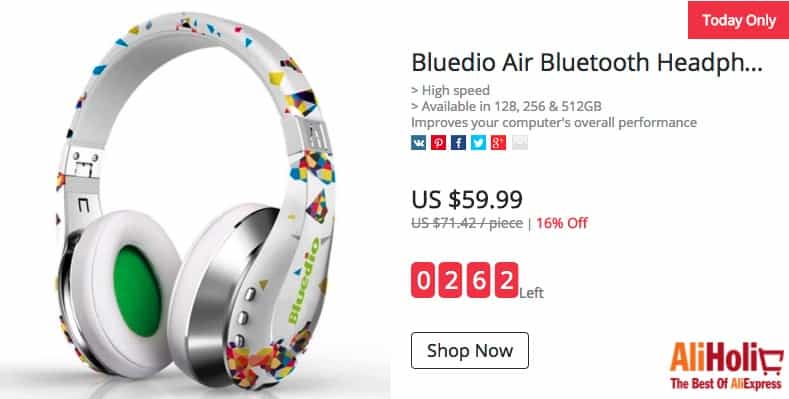 Deal link: http://goo.gl/CnnJDQ
The current next best price offering is at $60.53, but that's as low as they go.
---
There actually are sales that actually are good.
For example, the last year's 11.11 sale was amazing.
I have bought a pair of $33 motorcycle boots that I still use to that day –  the cheapest price I can find now is $46.99 (there is a listing for $37.84, but they also charge $21.21 for shipping).
Here is what the regular price is:
There are options with a cheaper per item price, but they do not come with free shipping:
During the last year's 11.11 sale I have bought a few other things, mostly motorcycle gear that I have been selling throughout this summer. Everything that I bought during the sale had a limited quantity, and the prices were actually lower than they normally are.
I also found that AliExpress sales are useful when browsing for new items. So don't avoid them completely.
The bottom line is:
Treat all sales with caution and a healthy bit of skepticism.

It only takes a few moments to verify if the sale is legitimate and if it is worth it. 
---
So hang tight, the 11.11 may really be worth it after all!
Subscribe via the form below to receive more tips about AliExpress.
Cheers!