AliExpress is an awesome marketplace. The prices are low and the product abundance is mindblowing.
If you follow these safety tactics, the risks should be minimal. But what happens when the things go South? Let's find out.
---
How to Escalate AliExpress Dispute?
---
To this day, I have 500 orders on AliExpress. Some of them have more than one product and shipment; but to avoid confusion let's say there were 500 individual products.
Out of these 270, not a single one has been lost in the mail – all 270 have been delivered sooner or later.
Just one order was damaged due to poor packaging (more on that later); which is surprising, because I live in Canada so the package goes a long way and gets handled by a lot of different people.
However, there have been a few cases where I had to resort to starting a dispute with AliExpress, and escalating it to the dispute resolution team. Out of the all orders that I have a total of 6 had some sort of issue with them.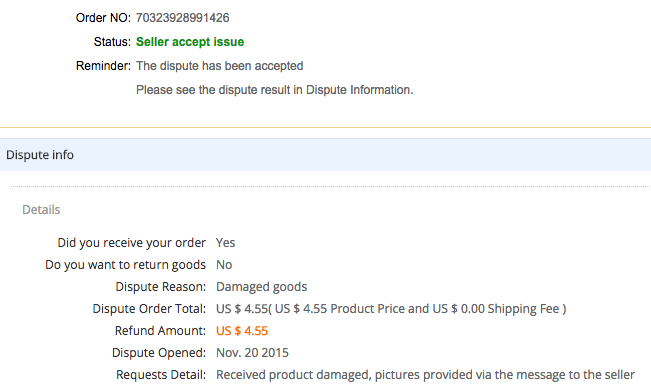 How does AliExpress Buyer Protection work?
Every purchase you make on AliExpress is covered by the Buyer Protection. The Buyer Protection typically lasts for 60 days since the order was placed; and since recently, for 15 days more after you confirm the receipt of the goods (a warranty of sorts).
The Buyer Protection protects you against:
Damage in transit
Loss in transit
Wrong item shipped
Item severely not as described
If you have a problem with either of these, or maybe a few, you need to contact the Dispute Resolution team.
To do that, go to Orders, and click "View Detail".

Then on the order detail page check the box, and click "Open Dispute".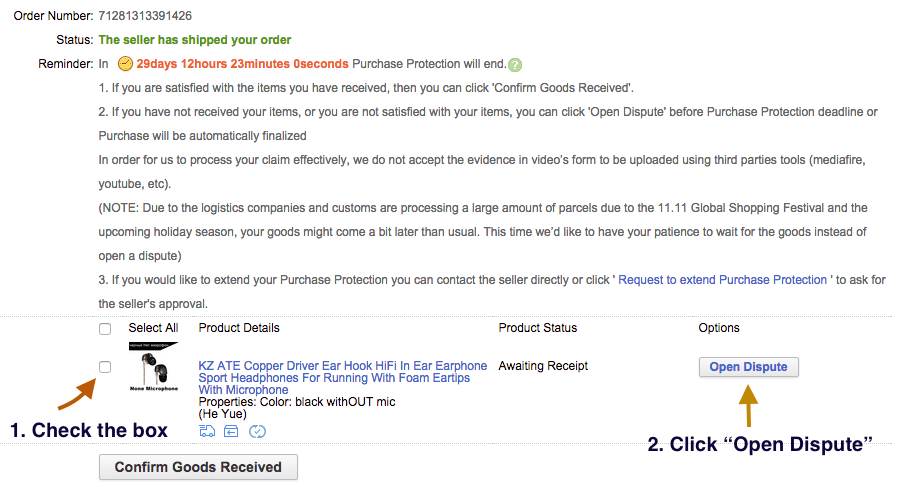 What to do when you receive a product that is not as described?
Before you start a dispute, ask yourself: "Am I being totally reasonable?" and "Is it worth it?"
There are issues directly caused by the seller's incompetence, and there are issues beyond their control.
For example, when you receive a wrong size or color, you can expect a partial refund. It never happened to me, but it appears that most people get 20-50% back, depending on the price of the product (the more expensive it is, the smaller the refund is).
If the product is completely wrong, the seller can either issue a full refund, or they could theoretically arrange a return shipment. I say theoretically, because I never heard it ever come to that.

Unless you have an A4 account (~$2,000+ in orders per year), disputes may take a couple weeks, as they usually involve a few back-and-forth's with the seller. Otherwise, your account should not be taken into the consideration too much when the Resolution team is arbitrating the case.
How to deal with the damaged item, or product (severely) not as described?
Ask for a full refund. If the resolution team believes you are entitled to less, they can change the refund amount; so why play against yourself?
Best to not agree to return the goods at your expense. If you receive the wrong product, you should not be have to pay any return freight. The seller is unlikely to refund it, and you also become liable for the product if you ship it (if it gets lost or damaged).
Be extremely polite, concise, and provide all the evidence. Pictures and videos are helpful; but remember that YouTube is blocked in China, so you will need to upload the video file to AliExpress.
And remember to always stay civil and respectful. Mistakes happen, most of the processing is done by real humans; and you are more likely to get respect and consideration that way.
But if you want to avoid having to create disputes altogether, check out the best products that we have curated in our shop section, or take a look at our collections of the best-selling items below. If you like our stuff, make sure to subscribe so we can send you the updates.