The 11.11 sale is approaching, and AliExpress reminds that to us with every chance they get.
This year it's a hit and miss; just like the stock market, it seems to be a zero-sum game. There are some really good deals, and there are some where you would pay more than you normally would.
---
---
The 11.11, or November 11 Sale starts on November 11 at 12.00 PST, so according to the LA/Vancouver, BC/Seattle/San Diego/Baja California time zone. It is also called Single's Day sale – hence the repeating ones in the date. There usually are some good deals (see 2016's Best 11-11 Deals post) on various Chinese E-Commerce shops during this sale, while some deals appear to be not so genuine.
I've had some tabs open from the last weekend, and, surprise-surprise: what then was the original price, now is an 11.11 price, and the "regular" price is upped by a few bucks.
As such, I suggest you treat the 11.11 sale with extreme caution, as it appears that a lot of AliExpress sellers are getting sneaky.
And here is why.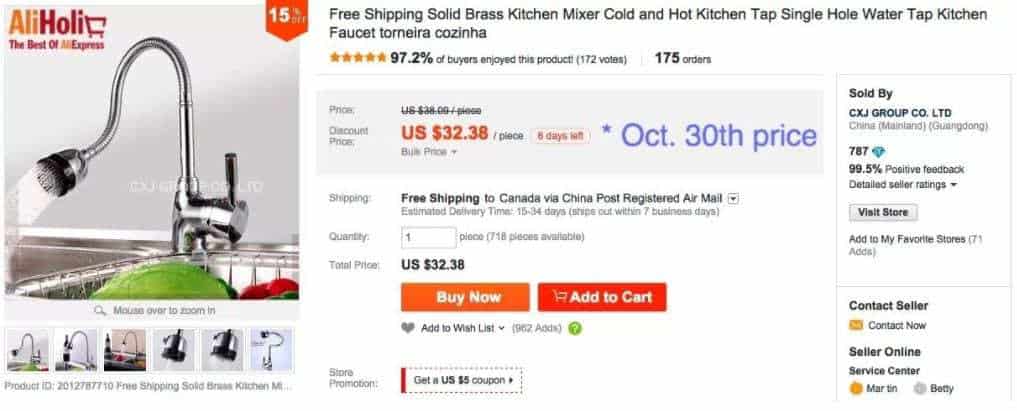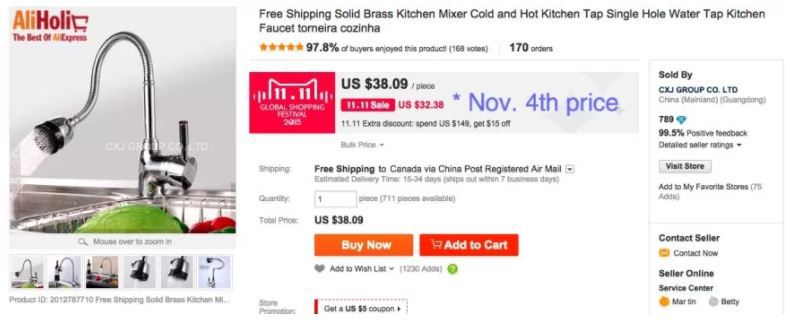 >>> Highly Recommended: HOW TO GET THE BEST 2017 11.11 SALE DEALS? <<<
Some examples of good and bad prices.
Example 1.
I bought these pants at a sale about a year ago for $12.50. Great pants, I really like them (as a matter of fact, I'm wearing them right now), but they were getting too stretched to wear outside, so I wanted to buy another pair. But couldn't find them for any less than $18.
On the 11.11 event of 2015 I could find them for $12.50 again.

Morale: In some cases when the deal will be good.
Example 2.
Last winter I bought myself a pair of KTM pants (yes, I buy some of my bike gear on AliExpress, through a series of unfortunate events it has proven itself to be fairly solid) for $62.70, which are now sold at reg. $79.99 / 11.11 price of $67.99.
Morale: The price could vary unexpectedly. Currently, these pants are around $78-80 reg. price, so the 11.11 sale price is good in this case; but they were even cheaper price last year.
Example 3.
Neoprene (who thought it would be a good idea?) touchscreen-friendly motorcycle gloves.
I paid $8.62 per piece for them when I bought them for re-selling, and now the 11.11 price is at $6.99 per piece. When I checked the Related Products grid, I found the same gloves sold by a different seller at reg. $6.97 (which isn't even an 11.11 price).
And, to make things even more confusing, I saw the same gloves at $9.00, $8.41 and $7.42, all of which are sale prices.

Morale: Check yourself before you wreck yourself. The deal may seem good, even in comparison with the previous regular price, but it still isn't the best price you can find. Double and triple check the prices with other sellers before you click the "buy" button.
Example 4.
Pro-Biker A005 casual riding boots. I bought these for my girlfriend for $56.99, which was the cheapest price at the time. I used to keep tabs on the bike gear prices because I was reselling them a t the time. The prices dropped a bit, but I haven't seen them any cheaper than $47.
Except for the 2014's 11.11 sale, when I saw them for $33 and couldn't resist getting them for myself.


Morale: There are sellers that hook us up with good deals. But it helps if you know the prices.
---
 >>> RELATED: HOW TO GET THE BEST 2017 11.11 SALE DEALS <<<
---
A few tips for surviving 11.11:
Do not buy shit only because you think the discount is good.
Try not to buy shit that you don't need, but you think you may need (because most likely you won't).
Compare the 11.11 price with the regular price using the search bar. You may be able to find same items listed by other sellers cheaper than what the 11.11 price is. It is important to understand, that 11.11 sale prices are set by the sellers; and the same item could be (and often is) sold by more than one seller.
If you decide that you need something, add the products to the cart in advance, and buy discount coupons. Last year I saw $100 coupons sold for $50, $200 for $100, etc. Coupons are available Nov. 8-10.
Familiarize yourself with What to expect during the Single's Day Sale in 2017
Nevertheless, there are some good 11.11 deals – especially the promo deals, where the seller lowers the cost with the hope of generating enough sales to get a good rating, or to promote their other products with a higher profit margin.
Best 11.11 Sale Deals – Part 1
Best 11.11 FASHION deals
Check out the Best-Selling Products of 2017
Thank you for reading this, friend!
If you are participating in the sale, check our lists to see if there is anything else you may like.
Subscribe via the form below to receive e-mail updates (no spam).
Much love.